[ad_1]

Podcast: Play in new window | Download
In a payments world that often is often focused on the new thing, reliable ACH payments—the province of the National Automated Clearing House Association (Nacha)—keep steadily growing, with billions of payments processed annually to the tune of trillions of dollars.
PaymentsJournal
ACH Network Processed 30 Billion Payments—a Total of $76.7 Trillion—in 2022
PaymentsJournal ACH Network Processed 30 Billion Payments—a Total of $76.7 Trillion—in 2022
That doesn't mean, however, that nothing is new in the ACH lane. On a recent PaymentsJournal podcast, Michael Herd, the Senior Vice President of ACH Network Administration at Nacha chatted with Brian Riley, Co-Director of Payments at Javelin Strategy & Research, about the highlights of the past year, what has been driving business for Nacha, developments to look forward to in 2023, and why Herd sees reason for optimism.
"It really is a far-reaching, industrial-strength payment system here in the U.S.," said Herd.
The volume attests to Herd's contention.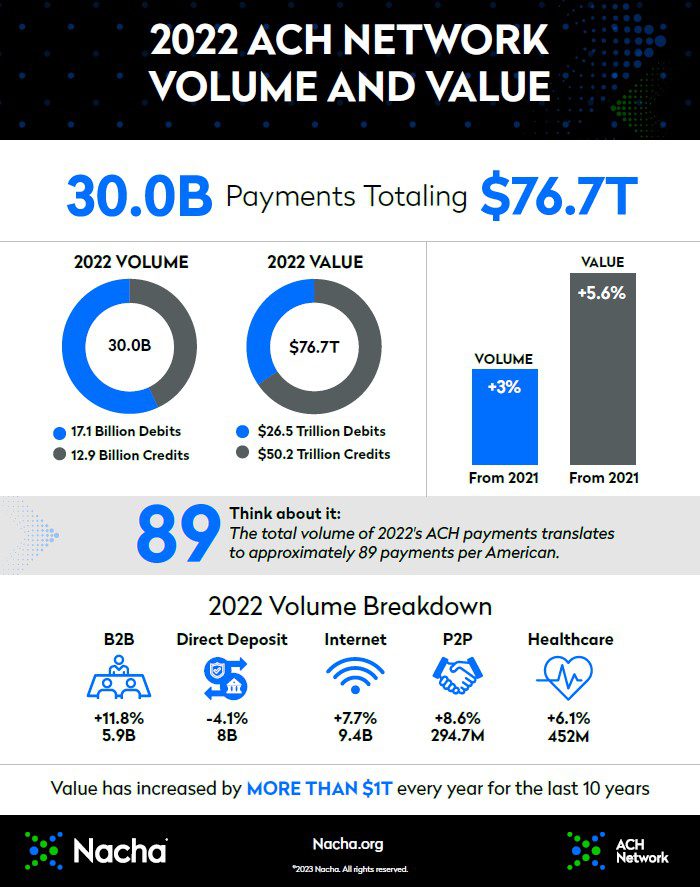 The ACH Network processed 30 billion payments in 2022, encompassing $76.7 trillion. Those numbers were up by 3% and 5.6% over what the network handled in 2021.
Herd said that volume was achieved despite "some headwinds." He noted the absence of pandemic assistance payments, which flooded into taxpayers' bank accounts in 2020 and 2021. There was also a slowdown in economic growth and in jobs.
Nonetheless, the numbers grew across the board for the ACH Network, with dollar growth of about 6% year over year. It all amounts to more than 120 million payments per business day, and over the course of the year, it's approximately 89 payments per U.S. citizen.
But perhaps the best measurement of ACH payments' enduring appeal and easy reliability is that the value of the payments processed by the ACH Network has increased by more than one trillion dollars every year for 10 consecutive years.
It's an enviable steadiness, Riley noted.
"The volume continues to grow," he said. "I don't want to know about events that blow up. It's nice and steady. It's there, reliable."
In March 2022, the per-payment limit on Same Day ACH transactions increased from $100,000 to $1 million. That boost brought new players into the fold and fueled remarkable year-over-year growth for the payment method.
"There was an immediate impact to that increase," said Herd. "We were able to see a doubling of the dollars flowing through same-day ACH (from February, the month before the increase, to April)."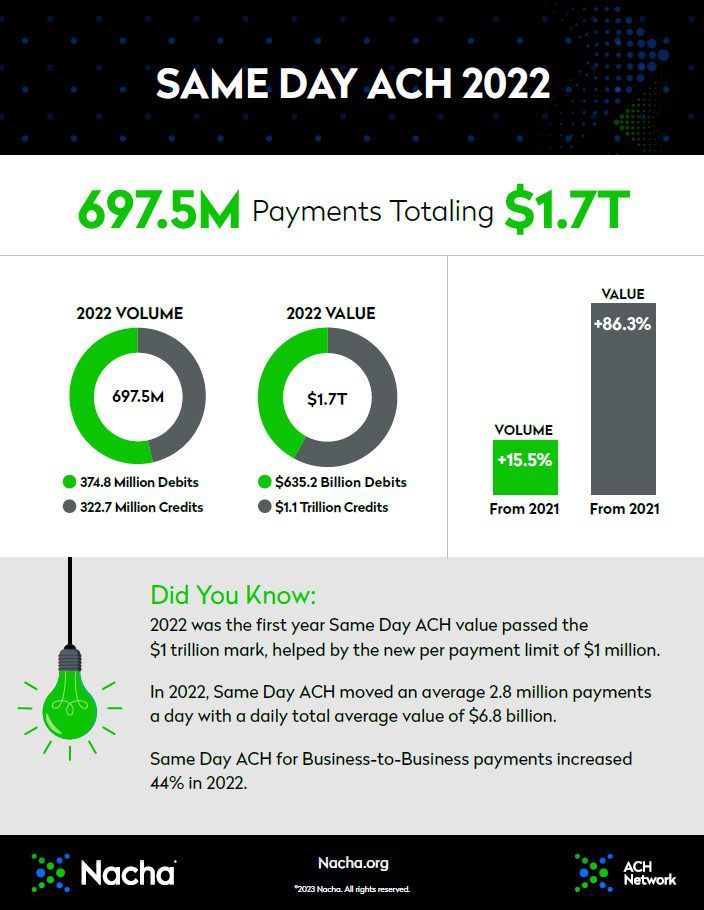 Again, the numbers tell the story of the growth: 697.5 million payments using same-day ACH that added up to $1.7 trillion in value, a more than 86% increase year over year.
What's more, the boost in the per-payment limit expanded the use cases for Same Day ACH, drawing in such things as vendor payments, tax withholdings, merchant funding and settlements, and concentrations of cash. Further, business-to-business (B2B) payments across Same Day ACH are up 44% year over year, according to Herd.
The cap increase, Riley said, "was significant for the long-term reliability of that relationship."
Herd backed that up with anecdotes from his dealings with users and would-be users of same-day ACH.
"It is the corporate user community that has been driving those increases over time," he said. "They're the ones that have really told us that this is something that they wanted and that it makes a difference to them. It enables them to use the capability that has been created."
The ACH Network has continued to see shifts from the pre-pandemic business payments models, which in many cases clung to older forms like paper checks, to what became a necessity during the pandemic: paying employees, vendors, suppliers, and the like without putting a piece of paper in their hands.
That ended what Herd described as "inertia" among some businesses.
"When you don't really have ways to send and receive checks with actual people doing the physical processing of those, that changes behavior very quickly," he said. "So we saw some significant increases in business payments and especially B2B volume, and that continued in 2022 even though many businesses have either gone back or portions of the workforce have gone back."
"Once you make that shift away from paper," Riley quipped, "you're not really going to go back."
Herd pointed to three fronts where Nacha will be looking to refine how it does business:
Extended hours for Same Day ACH: Right now, the settlement times for Same Day ACH correspond with standard East Coast working hours. As a result, the West Coast currently has a truncated window for Same Day ACH payments. Herd said the idea is to work with industry partners to expand Same Day availability to align with West Coast close-of-business hours.
International ACH transactions: Improvements, Herd said, can make the user experience better and easier to understand.
Risk management: Implementation has begun on a new Risk Management Framework, issued in 2022. Herd pointed to a focus on fraud like "credit push payments, things such as business email compromise and vendor impersonations and other types of fraud."
Herd ended on a hopeful note, citing some of the reasons for optimism he has seen in the young year. Recession fears, swirling since last year, are easing a bit. Job gains for January (517,000 new jobs) were strong, and fortified statistics from November and December that were also encouraging.
"It's good for payment systems," he said. "It's certainly good for the ACH direct deposit of payroll payments."
And while acknowledging what Riley called "unpredictable things" such as inflation, Herd cast the steady reliability of ACH transactions in the wider light of Nacha's ongoing mission to refine its processes and protect its customers.
"The world wants to move faster and faster and faster, and the ACH [Network] has been central to that conversation," he said. "And we also have to be safer, safer, safer, and so we need to do that, too. So that's kind of all in the mix of how to keep something running efficiently."
[ad_2]

Source link