[ad_1]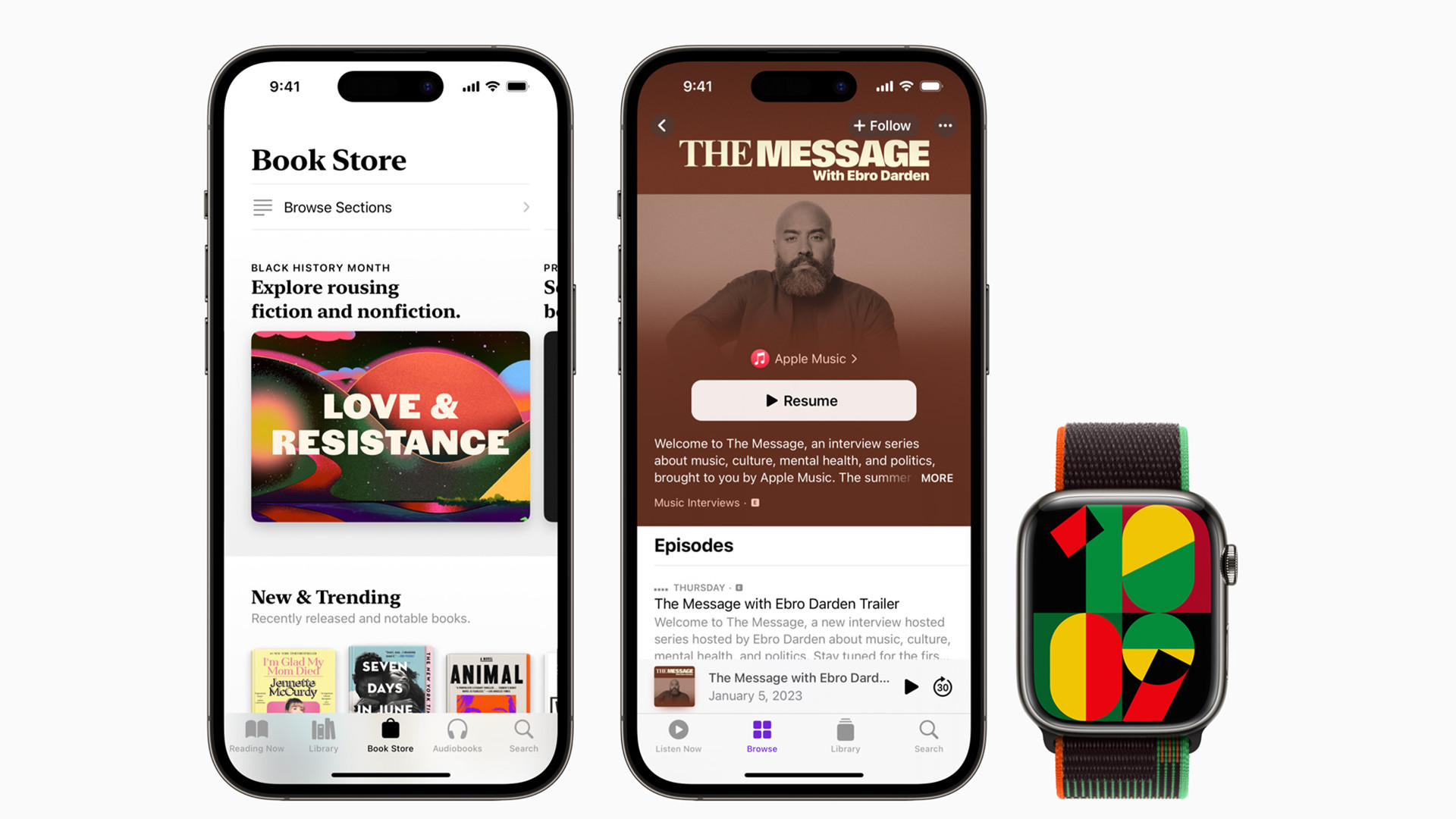 To celebrate February's Black History Month, Apple is rolling out this year's Black Unity Collection featuring a special edition Sport Loop for select Apple Watch models plus new curated collections and content for multiple iOS platforms.
2023's Black Unity Sport Loop (opens in new tab) is made from intricately woven yarn spelling out the word "Unity" using the same red, green, and black colors to reflect the Pan-African flag; similar to last year's offering. The strap comes in two sizes, 41mm and 45mm, which can fit the "Apple Watch SE, Apple Watch Series 4 or newer, and [the] Apple Watch Ultra (45mm band only)." Apple Watch and iPhone owners can also download a matching Pan-African watch face and phone wallpaper sometime next week. However, both designs require their respective devices to run watchOS 9.3 and iOS 16.3; both of which haven't been officially released yet at the time of this writing. They're currently both in beta.
Considering the software requirement, Apple is possibly hinting that both iOS 16.3 and watchOS 9.3 are launching sooner than expected. According to Bloomberg's Mark Gurman (opens in new tab), the update is supposed to release between February and March. We asked Apple if both watchOS 9.3 and iOS 16.3 are launching next week to coincide with the Black Unity Collection. This story will be updated if we hear back.
The Sport Loop, on the other hand, is currently available on Apple's online store (opens in new tab) for $49. Or if you prefer an in-person purchase, you can buy the strap at "select Apple Store locations beginning January 2 
New content
Regarding the new content, Apple teamed up with the Smithsonian to create a series of Guides for Apple Maps highlighting key moments in the civil rights movement from the past century or so. Each Guide covers a specific time period and the events that occurred. For example, the 1960-1978 portion (opens in new tab) talks about Martin Luther King Jr., whereas the 1980-2020 guide (opens in new tab) touches more contemporary history like Black Lives Matter.
Apple Fitness Plus subscribers will get new episodes of Time to Walk and Time to Run on January 30. For the former, the episode will feature famed R&B singer Patti LaBelle who will offer some insight into her life and family. Time to Run's content is a run-through of the music and artists from South Los Angeles that "helped put West Coast hip-hop on the map." 
Most of the curated collections are just that; a collection of content centered on Black artists. Apple Books, for example, will further push its Read More Black Authors collection with the aim to connect readers (and audiobook listeners) to books "across different genres." Apple Music has updated its For Us, By Us playlist (opens in new tab) to house more songs based on "resilience and resistance." 
Apple Podcasts will highlight shows that talk about how Black media in general has greatly influenced the world; however, you'll have to wait a bit before you can listen. This collection launches on February 1.
Going back to iOS 16.3, which we mentioned earlier, there is an important fix arriving in that update. It addresses random green and yellow lines flashing across an iPhone's screen when booting up. Apparently, it's caused by the Home app. Be sure to check out TechRadar's coverage of that rather annoying problem. 
[ad_2]

Source link