[ad_1]

Wireless charging is no longer a novelty concept but a conventional function of any modern iPhone. We won't pretend that wireless charging is always an ideal substitute for plugging in, but it's a hassle-free way to keep your phone topped off throughout the day.
Freed from the bother of plugging and unplugging, a wireless charger on your desk is as good a place as any to set your phone, knowing the battery is being steadily replenished, ready for your next outing. A wireless charger by your bed makes it easy to grab and go in the morning or to "just check one thing" without fussing with the Lightning cable.
All iPhones from the iPhone 8 up work with Qi-certified chargers. Qi (pronounced 'chee') is an open, universal charging standard created by the Wireless Power Consortium (WPC). Most Qi chargers charge an iPhone at up to 7.5W.
Qi vs MagSafe
While Qi is a cool standard, Apple's next-generation MagSafe technology, which debuted on the iPhone 12 (every model) and is still going strong on the iPhone 14 family, makes wireless charging more efficient. It combines a ring of magnets for secure attachment and a magnetometer to know when an item is attached, all around a more powerful Qi-based wireless charging coil (charging at up to 15W using MagSafe-certified chargers).
Magnetic charging (certified MagSafe or merely compatible) is more efficient than standard Qi as the tight magnetic fix means the iPhone is better connected to the charging coils.
iPhones with MagSafe still work with regular Qi wireless chargers, like the ones reviewed here, but they are limited to the same 7.5-watt charging rate as earlier iPhones with them. There are many MagSafe-compatible wireless chargers, but as they aren't certified by Apple they can reach only the standard 7.5W charging compared to certified MagSafe chargers at 15W.
If you own an iPhone 12, 13 or 14, we thoroughly recommend a MagSafe or MagSafe-compatible wireless charger—read our separate Best MagSafe Chargers roundup
For iPhones 8, X, XR, XS, and 11, our favorite Qi wireless chargers tested here are for you.
The best wireless chargers
Wireless chargers tend to come in three variants: pads, stands, and multi-device chargers. There are times when a stand makes more sense. In particular, they're useful for iPhones with Face ID, as a good stand with a steep angle will point your phone at your face enough for Face ID to work. This makes it a lot easier to unlock your phone to quickly check something without taking it off the charger.
Stands are great for reading your phone while it charges, but sometimes you want it to lie flat. It's less conspicuous on your desk or bedside table, and easier to just plop it down in any direction. Wireless charging pads tend to be a little less expensive than stands, too.
Now that AirPods have an optional wireless charging case and the Apple Watch is so popular, we've also seen an explosion of 2-in-1 and 3-in-1 chargers meant to charge several Apple devices at once.
We can vouch for the chargers we have tested here—there are plenty of cheaper chargers available online but for safety's sake we stick to brands we trust.
Anker 315 Wireless Charger (Pad)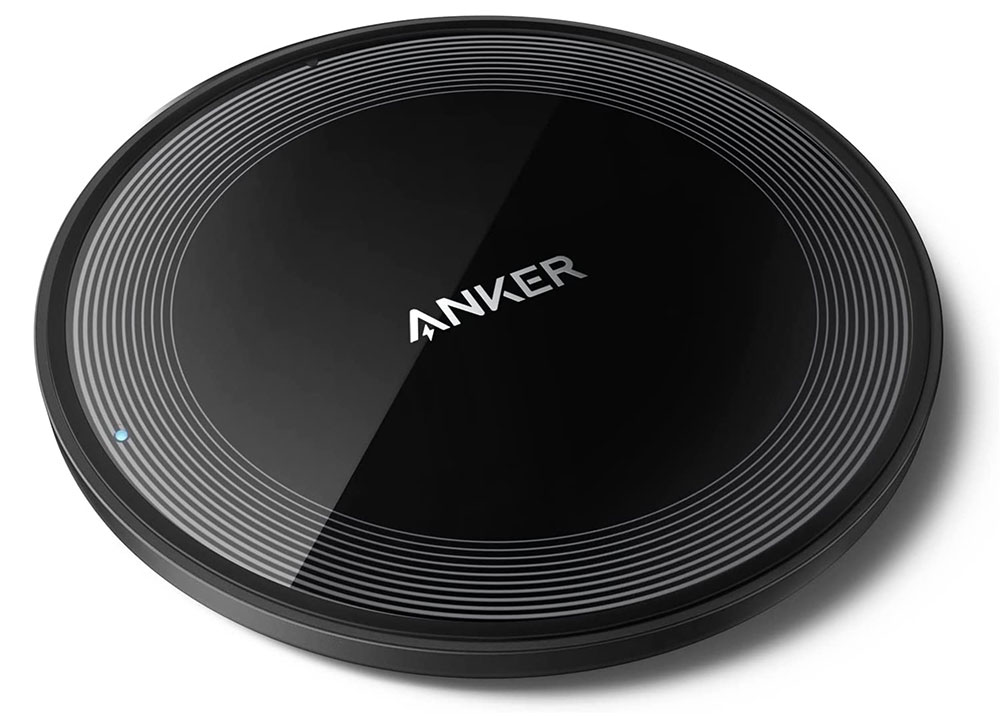 Cons
MicroUSB charging port
Requires power adapter
Price When Reviewed:

$14.99
A simple, budget option from a trusted iPhone accessory maker is the Anker 315 Wireless Charger, a slim pad that sits flat on your desk or bedside table and can charge at 7.5W.
Our only gripe with it is its fiddly old-fashioned MicroUSB charging cable, but you shouldn't be needing to unplug or plug it in many times so for an inexpensive non-magnetic charging pad, this is hard to beat for owners of an iPhone 8/X/XR/XS/11 or pre-2020 iPhone SE.
Owners of an iPhone 12/13/14 should instead consider the Anker 313 wireless charging pad, which uses magnets to secure a more efficient charging connection.
Belkin Boost Charge Wireless Charger (Stand)
Cons
MicroUSB charging port
Requires power adapter
Ugly design
Price When Reviewed:

$49.99
Belkin's Boost Up wireless charging stand always worked well, but we weren't really fans of its high price and proprietary AC adaptor. Also, it's not exactly pretty.
With this new Boost Charge wireless charging stand, Belkin has made a couple of welcome tweaks. Instead of a proprietary power adapter that ends in a barrel plug, it uses a standard USB power adapter with micro-USB cable—more modern chargers use the less fiddly reversible USB-C.
Aside from the micro-USB, that's a great shift—there's no real need for devices like this to give us yet another cable and plug we can't use with any of our other gear. Unfortunately, the design is nearly identical. A couple of small LED charging indicator lights are gone, and the finish is matte instead of glossy, but that weird retro-future circular pod design is the same as it ever was.
It's comfortable and easy, but it doesn't exactly look good on your desk. The stand supports 7.5W charging on iPhones, and for Android phones up to 10W, so you get the fastest charging available. I had no trouble getting a solid charging connection with a relatively thick case on an iPhone XS Max, too.
The price is a lot more reasonable this time around.
Logitech Powered 3-in-1 Dock (Multi Device)
Pros
Charges iPhone, AirPods and Watch
Functions as a stand
Price When Reviewed:

$129.99
Most iPhone users don't really need a 3-in-1 wireless charging dock. It's only of use if you have an iPhone, Apple Watch, and AirPods with the wireless charging case, and you really want to charge them all in the same place. If you want something clean and simple to put on your bedside table or desk to charge all that stuff at once, Logitech's Powered 3-in-1 dock is a quality solution, though it's going to cost you.
Available in either black or white, the dock is a little on the large side, but with clean lines and a nice matte finish that keep it from being an eyesore. It also includes its own Apple Watch charger, while many similar docks require you to insert your own.
The steep angle of the phone stand makes it easy to use your phone while it charges, and is well-placed to ensure Face ID works without requiring you to pick up your phone. The wide flat area to the left of the stand can charge any Qi-compatible device, including other phones or AirPods. I had no trouble charging my phone with a thick case on it, either on the stand or the pad area, and you don't have to be too precise with the placement.
The charging lights are tiny and dim, so as not to be distracting next to your bed at night. The charging cable is a proprietary DC barrel connector, which is more annoying than USB-C, but not uncommon on these multi-device chargers.
The cable is at least thin and flexible, with a nice matte finish, and a built-in cable management tie. Logitech basically gets everything right about a dock that combines an iPhone charging stand, an Apple Watch charger, and a charging pad for AirPods (or other devices). The only real gripe I have is the price. If you see it listed for less than $100, it's a good buy. Otherwise, there are other options that might not be quite as nice, but are a lot easier on the wallet.
STM ChargeTree Go (Multi Device)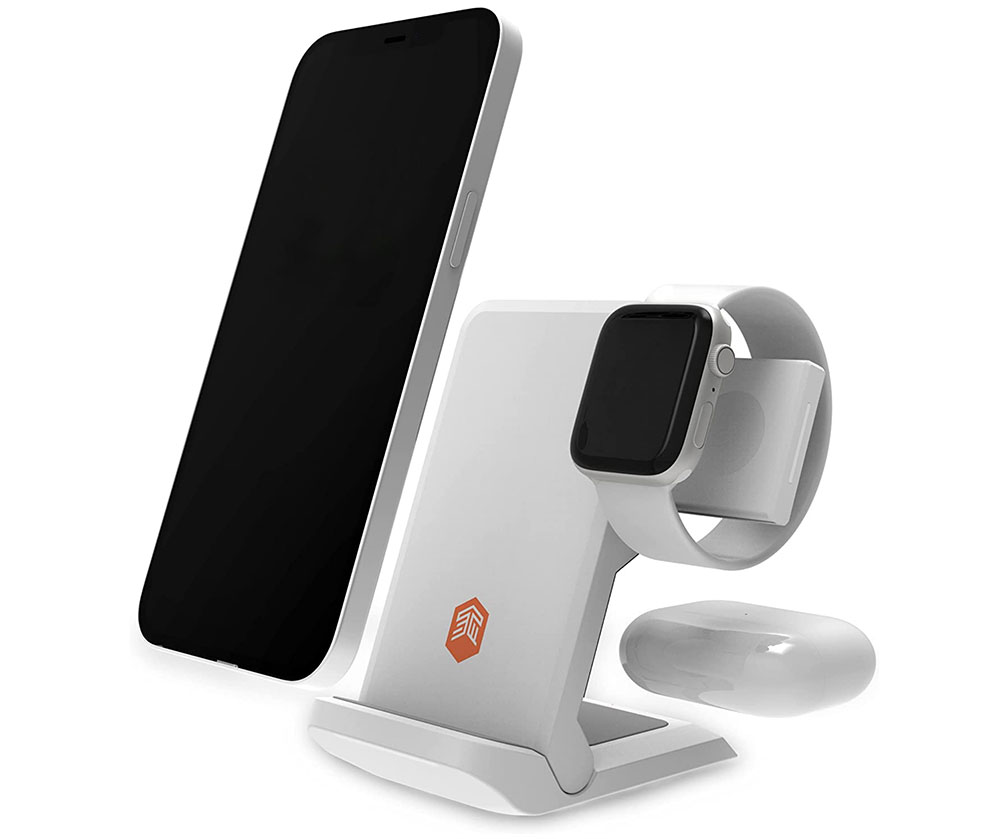 Pros
Charges iPhone, AirPods and Watch
Functions as a stand
Portable
Price When Reviewed:

$119.95
This 3-in-1 wireless charger is lightweight (7.8oz, 221g) and will fit in your pocket when folded up—it measures 5.94×2.95×0.93 inches (15.1×7.5×2.36 cm).
It's this ability to fold into a portable charging stand that sets it apart from other multi-device wireless chargers. When folded you can still use it as a standard albeit thick charging pad. When unfolded, it will charge an iPhone at 7.5W, wireless AirPods case at 5W and Apple Watch at 3W.
The Apple Watch charger is spring loaded and retractable, so doesn't get in the way if you're not charging your Watch, and it allows the Watch to go into nightstand mode.
Moshi Porto Q 5K Portable Battery Wireless Charger
Pros
Stylish
2-in-1 portable power bank
Price When Reviewed:

$89.95
Moshi's Porto Q is meant to look like furniture. Moshi says it is "Inspired by Danish furniture" and its subdued Nordic Gray fabric and slim profile does look good on almost any end table or nightstand.
It does more than a standard wireless charging pad as it can also be carried around as a 5000mAh power bank when not connected by its USB-C-to-USB-A cable. It can recharge a faded iPhone battery about 1.5 times. It weighs 5.4oz (156g) and measures 5.24×3.27×0.57 inches (13.3×8.3×1.45cm).
No power adapter is included, so you'll have to either use one of the many USB-A power adapter you probably have lying around or add the price of buying a new one. If you have a USB-C charger, you can connect to the Porto Q with a standard USB-C cable.
With the right adapter, the pad supports fast 7.5W charging for iPhones and up to 15W charging for supported Android phones.
Anker 313 PowerWave 7.5 (Stand)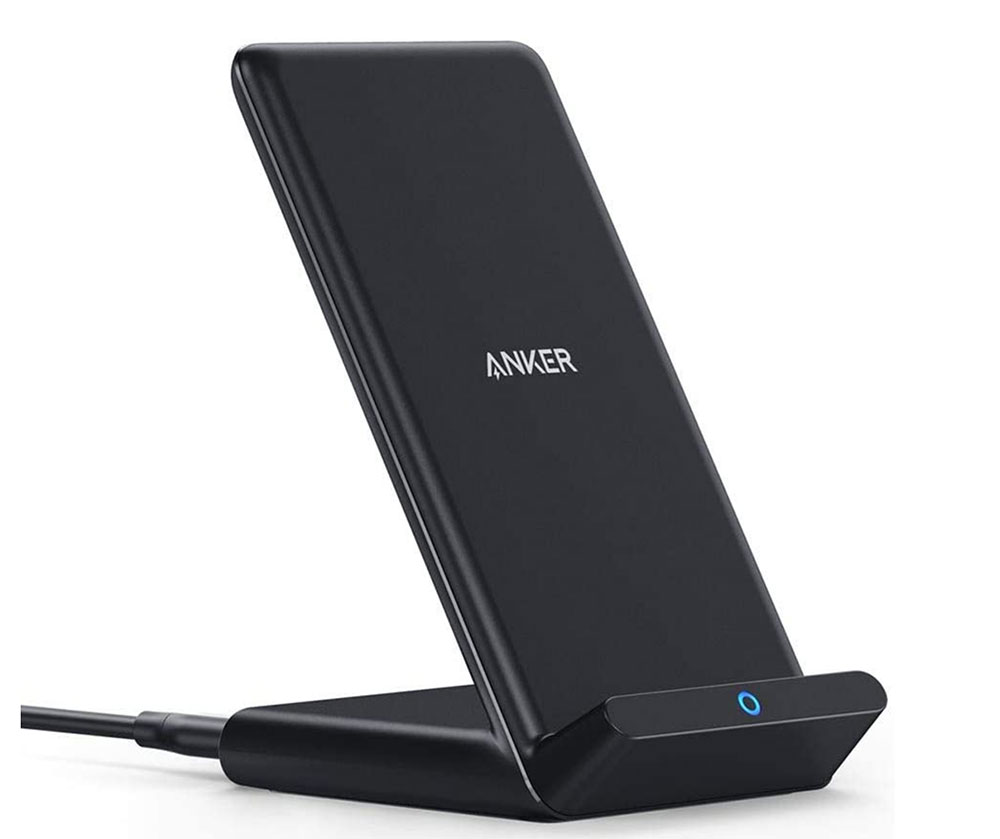 Cons
MicroUSB charging port
Requires power adapter
Price When Reviewed:

$19.99
Anker's PowerWave products greatly improve quality over its older wireless chargers. The new stand looks good, and is available in black and white colors.
A small blue charge indicator on the front is subtle enough to use on your bedside table. The angle is steep enough to make it suitable for unlocking your iPhone with Face ID while your phone is resting on your desk.
Anker includes a Quick Charge 3.0 compatible power adapter and a matching white microUSB cable, but the cable is way too short. Anker's spec sheet says it's three feet long, already a little on the short side, and we measured it at 34 inches.
The charger supports 7.5W charging on Apple devices and the 10W fast charge mode on the latest Samsung flagship phones. The power coils inside cover the entire back of the stand, so we had no trouble charging our iPhones in either portrait or landscape orientation.
A little cooling fan blows air out a vent in the rear to keep the charge coils cool, which keeps the charge rate from slowing down. If it's especially quiet and you put your ear up next to it, you can hear the gentle whirring sound.
RapidX Prismo Wireless Charger (Pad)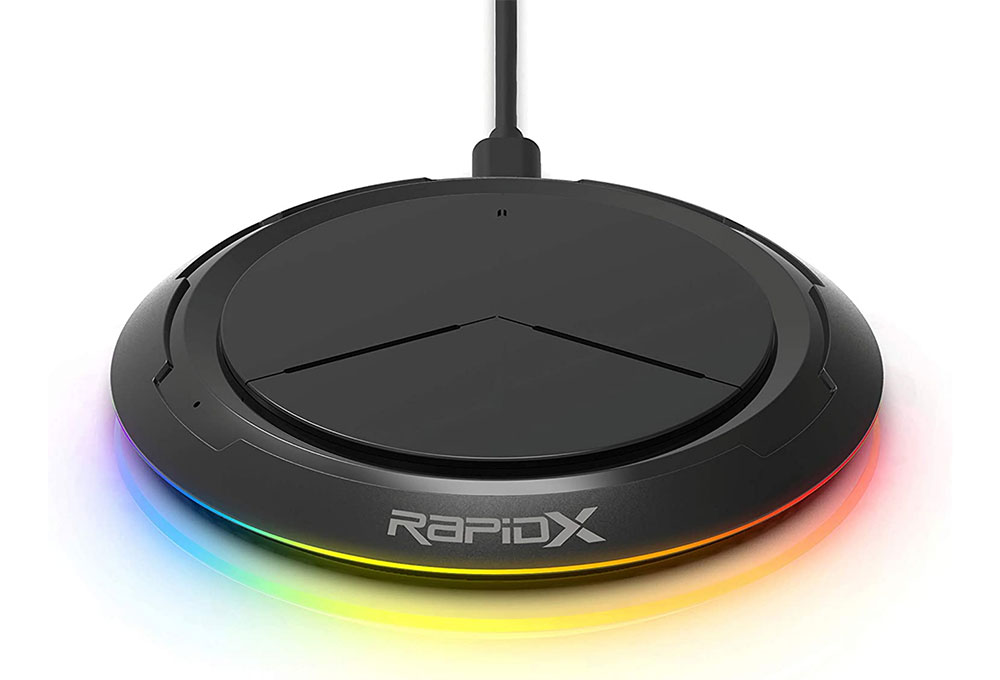 Cons
Lights just for show
Requires power adapter
Price When Reviewed:

$29.99
Most wireless charging pads go out of their way to be unobtrusive, especially since they're commonly used on nightstands and dressers. RapidX's Prismo charger goes the other way. Its main distinguishing feature is a ring of RGB LED lights around the base.
A small button on the bottom toggles it between nine different modes, including five solid colors and various pulsing and rotating variants. Though it's not in the instructions, a long press of the button will thankfully turn the light off.
Ironically, this RGB LED ring never has anything to do with actually charging your phone. Instead, there's a separate pinhole charging light on the top of the pad, which is quite dim. The pad is large and works well, with a good non-slip grip surface. And the price isn't bad, though you'll need to supply your own QC 2.0 or 3.0 power adapter.
Also tested: Nomad Base Station Pro; RapidX Modular5; Moshi Sette Q wireless charging pad; Logitech Powered Pad; Aircore 2-in-1 Wireless Charging Stand; AirUnleashed; Samsung Wireless Charging Pad; Aircore 3-in-1 Wireless Charging Stand; Mophie Wireless Charge Pad; Belkin BOOST UP Wireless Charging Pad; Letscom W01 3-in-1 Wireless Charger; Qimini Pocket Wireless Charger.
Are you interested in a charger you don't see listed here? That's not surprising—while we try to cover the most popular brands, there are literally hundreds of wireless chargers on the market. We can still help make sure you get a product you're happy with, though. The next page contains some helpful general advice to consider when deciding which wireless charger to buy.
Find out the fastest ways to charge an iPhone.
Qi vs PMA
If you see a charger that only supports PMA, keep moving. The new iPhones only support Qi. Fortunately, Qi is by far the most common standard for consumers, so you shouldn't have much trouble finding a compatible charger. What's more, every Qi compatible charger should work just fine with every iPhone from the iPhone 8 onward, even if it doesn't specifically list support for them on its packaging or marketing materials. 
5W vs 7.5W performance
The new iPhones shipped with initial wireless charging limited to just 5 watts. That's pretty slow, but then again, the in-box power adapter also used to be only 5 watts. So wireless charging really isn't any slower than the old (admittedly pitiful) power adapter that Apple used to ship in the iPhone box. Nowadays, Apple doesn't include a charger with the iPhone, supposedly for environmental reasons but also to keep its costs down.
The iOS 11.2 update increased the maximum wireless charging speed to 7.5 watts. That's 50 percent faster, but charging speeds vary, and they slow down a lot as the battery gets full. Still, if you want the best performance in a wireless charger, look for one that can support 7.5 watts or more.
For pads that don't come with fast-charging adapters, you'll want to look at the store pages to see what is required to enable higher-speed charging. Some enable faster charging only when using an adapter with Qualcomm's Quick Charge technology, some work with any high-wattage USB power adapter (like the iPad adapter Apple sells). See what is required before buying a new adapter.
Flat or standing?
You'll see two types of wireless chargers on the market: flat pads, and angled stands. A flat pad is simple and easy, but you might want to consider a stand. With a stand it's a lot easier to use your phone while it's charging up.
And with iPhones that have Face ID, a standing charger makes it easy to unlock your phone without picking it up.
Portrait and landscape orientation
If you get a stand instead of a flat charger, you'd be wise to make sure it's made to work with your phone in both landscape and portrait orientation.
Most of the time, you'll plop down your phone standing upright. And Face ID on iPhones will only work when the phone is upright, too.
But a charger that works well with your phone in landscape mode makes it easy to play certain games, and of course watch videos, without taking your phone away from those precious free electrons.
Case concerns
If you keep a case on your phone, you shouldn't worry too much about whether it will work with a wireless charging pad or stand. The vast majority of cases will work just fine.
There are three types of cases that can pose problems, however:
The first is a case with a metal back (or a battery case). That battery case may seem attractive with its extra 5,200 mAh of extra juice, but it won't work with wireless chargers.
The second is a wallet case. A particularly thin one might actually work, but electromagnetic induction and credit card magnetic stripes just don't mix. If you don't want to screw up your cards, don't put them between your phone and a wireless charger.
The third is especially thick cases. Most chargers will work fine with any case up to about 3mm thick, and some can go through a 5mm case with ease. But maybe you're a demolition derby racer and also work construction plus you're a rodeo clown on the weekends. Maybe you have an extra-rugged case. If so, it's probably too thick to get a wireless charge going, even if it doesn't have a metal back (as many extra-rugged cases do).
[ad_2]

Source link