[ad_1]

CES is undeniably the most famous and influential tech show on the planet, held yearly in Las Vegas.
With the pandemic still hanging over the world last year, its 2022 attendance was a shadow of its former self, attracting only 45,000 people — down from its pre-Covid high 150,000 — with dozens of exhibitors canceling their on-floor presence days before the show.
This year's event, happily, attracted substantially more attendees, hitting the 115,000 mark, according to the event's organizer, the Consumer Technology Association.
After logging nearly 80,000 steps, attending more than 35 meetings, and spending several hours on the show floors during my five-day stint, I can attest that the event lived up to my expectations.
There were interesting products and solutions, running the gamut from wireless TVs to urine sensors for your toilet that can monitor your kidney health, to VR headsets, to the latest electric vehicles; there was literally something for everybody.
Putting those product categories aside, I was looking to see what inroads the industry had made in smart home energy management. Over the past several years, some companies have tried to broaden the definition of the smart home to include the ability to manage electricity utilization as part of their sustainability efforts to reduce carbon and fossil fuels.
In late 2021, I began the long journey in my home to test the theory that smart devices — and ultimately smart appliances — could reduce my electricity utilization and, most importantly, my electricity bills.
After a year of upgrading my 1,700-square-foot condo in San Jose, Calif., with several devices specifically designed to monitor my electricity usage in exact detail, the results were surprising and ultimately disappointing.
How did I upgrade my home with smart energy management devices?
As the saying goes, you can't manage something unless you can measure it, and that's vital in the smart energy management space.
Fortunately, there are a few ways to measure electricity consumption with precision. If you're building a new home, many homeowners opt to install smart energy electrical panels that connect to the home network and provide detailed information about electricity usage down to the appliances and outlets.
For homeowners with legacy electrical legacy panels, products like Schneider Electric's Wiser Energy system is a much more affordable alternative to replacing the entire electrical board. However, you'll need a certified electrician to install it as the unit gets embedded behind the existing panel.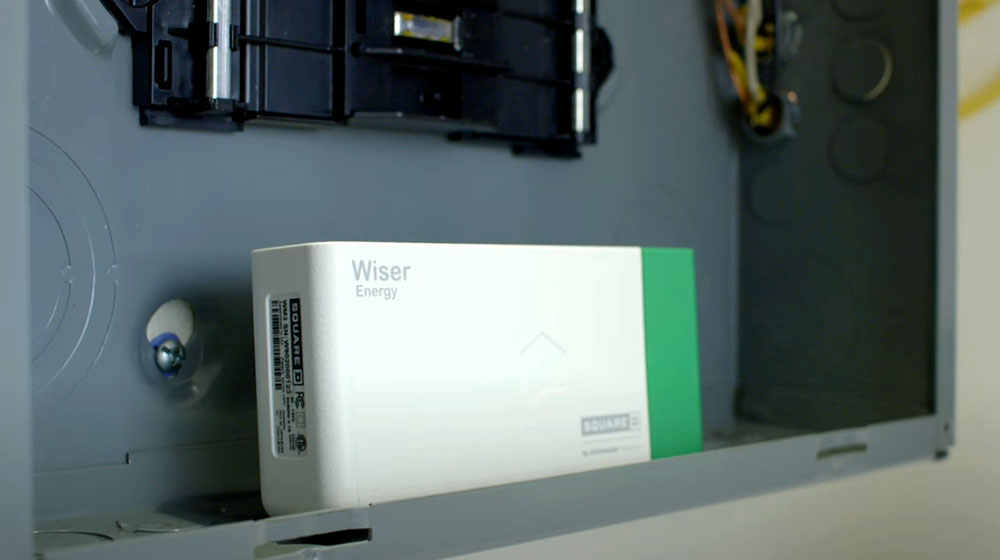 Wiser Energy Home Power Monitor | Image Credit: Schneider Electric
---
Wiser Energy uses machine learning to examine all the power used in your home. It can identify the devices on and off, and its intelligence can also identify major appliances and electric usage down to the outlet level. I've been using it since late 2021, and it helps me determine what devices in my home are in an "always on" condition, like refrigerators.
I've gone a step further and utilized several Kasa Smart Wi-Fi Power Strips to help me dramatically reduce so-called "ghost" electricity (also known as "vampire" power), as most devices waste power when they're not in use or even turned off. Ghost power is estimated to consume approximately 20% of all residential energy, so it's a meaningful phenomenon.
I've installed four Kasa Smart Wi-Fi Power Strips in critical areas like my bedrooms, den, and office, allowing me to automatically power down and power up these areas in the morning and night at specific times. Moreover, these power strips are Amazon Alexa-compatible, so I can wake them and turn them off via spoken word.
Smart appliances were the next major upgrade.
Despite much of the momentum that categorized the smart home at a high level, many consumers have been reticent about upgrading their major appliances to "connected" models because the perceived benefits outweigh the costs.
It's worth mentioning that upgrading my entire kitchen and laundry room (refrigerator, oven, dishwasher, and washer/dryer) with the latest connected models from Samsung and LG cost nearly $7,000.
For the mainstream consumer, that is a lot of cash to lay out for the convenience of remotely changing the refrigerator temperature, being notified when the filter needs replacement, or how many times the refrigerator door has been opened.
Sure, the ability to see inside your Samsung refrigerator remotely with its integrated indoor camera to understand that you need to buy milk when you're already at the grocery store can be helpful. Still, the fact most appliances have lifecycles of over 15 years facilitates consumer behavior that these in-home machines don't get upgraded until they fail.
Oddly, smart appliance makers have not aggressively used appliance intelligence to change consumer behavior. Neither LG nor Samsung's smart app will advise users to delay washing their dishes or clothes until early morning or late evening when utilities, such as Pacific Gas and Electric in California, offer less-expensive Time-of-Use (TOU) plans.
TOU plans are available in California, Arizona, and Massachusetts, with scores of other states to follow over the coming years. TOU plans are pervasive in Western Europe and Asia, and it's only a matter of time before these offerings become ubiquitous in the United States.
Appliance Apps Lack Energy Provider Integration
The connected appliance manufacturers have considerable work to do in this area. It's not sufficient to suggest postponing washing dishes or clothes with generic messaging about saving money. An excellent smart home appliance app should be able to connect to my energy provider account so that it can provide specific cost savings based on my behavior and routine.
For example, suppose my LG dishwasher told me I'd save 90 cents by delaying using it until after 9 p.m., which could translate to cost savings of several dollars over a month or even a year. In that case, I guess that behavior would quickly change. Sadly, this capability is not integrated into the LG and Samsung smart apps.
The Schneider Electric Wiser app provides me with generic kilowatt-hour (kWH) costs for appliances at a zip code level. Still, it is not connected directly to my utility account and doesn't provide the type of personalized messaging that is needed to change consumer behavior. This situation is an ample missed opportunity for all parties involved.
On the brighter side, the Home Connectivity Alliance formally announced its interface spec at CES 2023, which should provide greater interoperability between disparate appliances, including paving the way for how connected solutions can provide real-world energy and cost savings for the consumer. Hope springs eternal.
Did my home smart energy upgrade save me money?
With 2022 now in the rearview mirror, I could do some "back of the envelope" math to understand the impact. As mentioned earlier, the results were both surprising and disappointing.
First, the good news: despite a scorching summer in the Bay Area in 2022 and more frequent "stayover" visits from friends and relatives last year versus 2021, when I lived in isolation more or less, my overall electricity usage was down nearly 3.5%.
I attribute much of that to the elimination of ghost energy, but my more efficient intelligent appliances, which I installed in October, also played a role. One telling example: FTC.gov rates the new LG washing machine I'm using to consume $13 for an entire year versus $38 for the vintage 2007 model it replaced.
Today's new appliances are dramatically more cost-efficient than products available 15 years years ago. If I pro-rate those new appliance-related savings for an entire year, I'm likely to see even more dramatic reductions in total electricity usage in 2023, potentially reducing my annual electricity usage by 10%. That is indeed a big deal.
But here's the bad news: despite that electricity reduction in 2022 from 2021, my actual electricity bill climbed nearly 18%, from $2,508 to $2,954 in 2022. This type of news will make skeptics of smart home energy management cringe.
Yes, California is the culprit, as it has the highest electricity rates in the nation, despite my taking advantage of the less expensive TOU plans regularly.
While some might benignly spin this outcome as it could have been a lot worse had I not made all of these upgrades in my condo, this is precisely not the type of messaging that will succeed with most consumers, as they see these upgrades as a means of actually saving money from what their spending now.
In the final analysis, my key takeaway is that it underscores how seriously I should contemplate moving out of California.
Other Notable Sightings at CES 2023
A few other product demonstrations caught my eye and deserved to be called out during my five-day stint in Las Vegas.
Lenovo ThinkBook Wireless Dock
Image Credit: Synaptics
---
Synaptics, one of the premier human interface "ingredient" technology leaders in the world, announced a new capability that Lenovo utilized to release a completely wireless docking station, aptly named the Lenovo ThinkBook Wireless Dock.
With the ability to facilitate seamless, cable-free 4K display connectivity, this capability will resonate with work-from-home users who hate a cluttered desktop.
EV Battery Management
Infineon Technologies and Neutron Controls, as featured in my on-site interviews, demonstrated new technology designed to optimize total battery management and consumption in the EV area.
Given the scores of control systems in the average EV, this capability will find broad appeal by electric car manufacturers looking to wring out as much optimization as possible in a highly coordinated, synchronized manner without sacrificing functionality or safety.
Schneider Home
Schneider Electric revealed its innovative, sustainable home energy management solution, dubbed Schneider Home.

Image Credit: Schneider Electric
---
Consisting of a home battery for clean energy storage, a high-power solar inverter, a smart electric panel, an EV charger, connected electric sockets, and light switches, this attractively designed solution utilizes an app to monitor energy consumption by the individual appliance and deciding where to prioritize power during an outage.
While it lays the groundwork for lower electricity costs by leveraging solar energy stored in local batteries, its associated app still skews to monitoring functionality rather than guiding consumer behavior at the appliance level based on personalized account linkage with the local energy provider. Despite that, it's a good step in the right direction.
Matter Product Demonstrations
Finally, it was good to see the Matter smart home inoperability initiative making its presence known at CES 2023.
Unlike last year's CES, Matter product demos, which promise to allow smart home devices to work together without strict allegiance to Amazon Alexa, Google Assistant, and Apple HomeKit, were visible throughout the show, both on the show floor and behind the scenes NDA sessions.
Unfortunately, Matter-compliant products are still unavailable at retail, but that situation should change over the next 60 to 90 days.
[ad_2]

Source link