[ad_1]

Pioneer has announced a new flagship Elite 11.2.4-channel AV receiver, the VSX-LX805 ($2,999 / around  £2,500 / AU$4,500). This is the first flagship model to arrive from Pioneer since rights to its AV brand were acquired by the Premium Audio Company, a subsidiary of VOXX International that also holds the Klipsch, Jamo, and Integra brands under its corporate umbrella, and it's nothing if not feature-packed.
Like all the best AV receivers, the VSX-LX805 provides processing support for both Dolby Atmos and DTS:X and it's also IMAX Enhanced certified. A firmware update scheduled for June will add Auro-3D processing, making the new Pioneer Elite model a fully stocked option for immersive audio.
The VSX-LX805's 11 class-AB amplifier channels are each rated to deliver 150 watts output, and it can be used to power up to three zones. It has 15 RCA preamp outputs for future amplifier upgrades along with stereo XLR input and output connections.
A total of seven HDMI 2.1 inputs are provided and there are three HDMI outputs including one with eARC. Of these, inputs 1-6 support 8K pass-through, along with 4K 120Hz signals from PS5 and Xbox Series X gaming consoles, and there's also support for VRR, ALLM, and Quick Media Transport (QMS), which lets the receiver switch between video output at different frame rates such as 24fps and 60fps without any glitches.
Streaming also gets comprehensive support on Pioneer's new receiver, with Chromecast, AirPlay 2, DTS Play-Fi, and Bluetooth aptX HD all accommodated. Chromecast and DTS Play-Fi provide high-res audio streaming, and DTS Play-Fi recently added gapless playback as a feature, so either will be a great way to listen to music on the VSX-LX805. Otherwise, it has built-in support for Tidal, Spotify, and Amazon Music Unlimited, allowing you to directly access those music streaming services when using Pioneer's control app.
Dirac Live and Dirac Live Bass Control 
One of the more interesting features found on the VSX-LX805 is Dirac Live. This is an advanced form of room correction processing to optimize the sound of multi-channel speaker systems, and the built-in full-bandwidth version Pioneer provides lets you correct for audio frequencies above 500Hz, as opposed to the more limited bass-only version supported by some products.
You can also upgrade the VSX-LX805 for Dirac Live Bass Control for systems with single or multiple subwoofers (the cost is $349 for a single sub and $399 for two subs).
In the company's own words, "Dirac Live Bass Control leverages all-pass filters, plus machine learning and artificial intelligence, to calculate gains, delays, and all-pass filters for each subwoofer. In this way, the Dirac solution ensures that low frequencies add up so that not only the average is controlled, but most importantly, seat-to-seat variation is minimized as we can now achieve a level of control in multiple locations at once."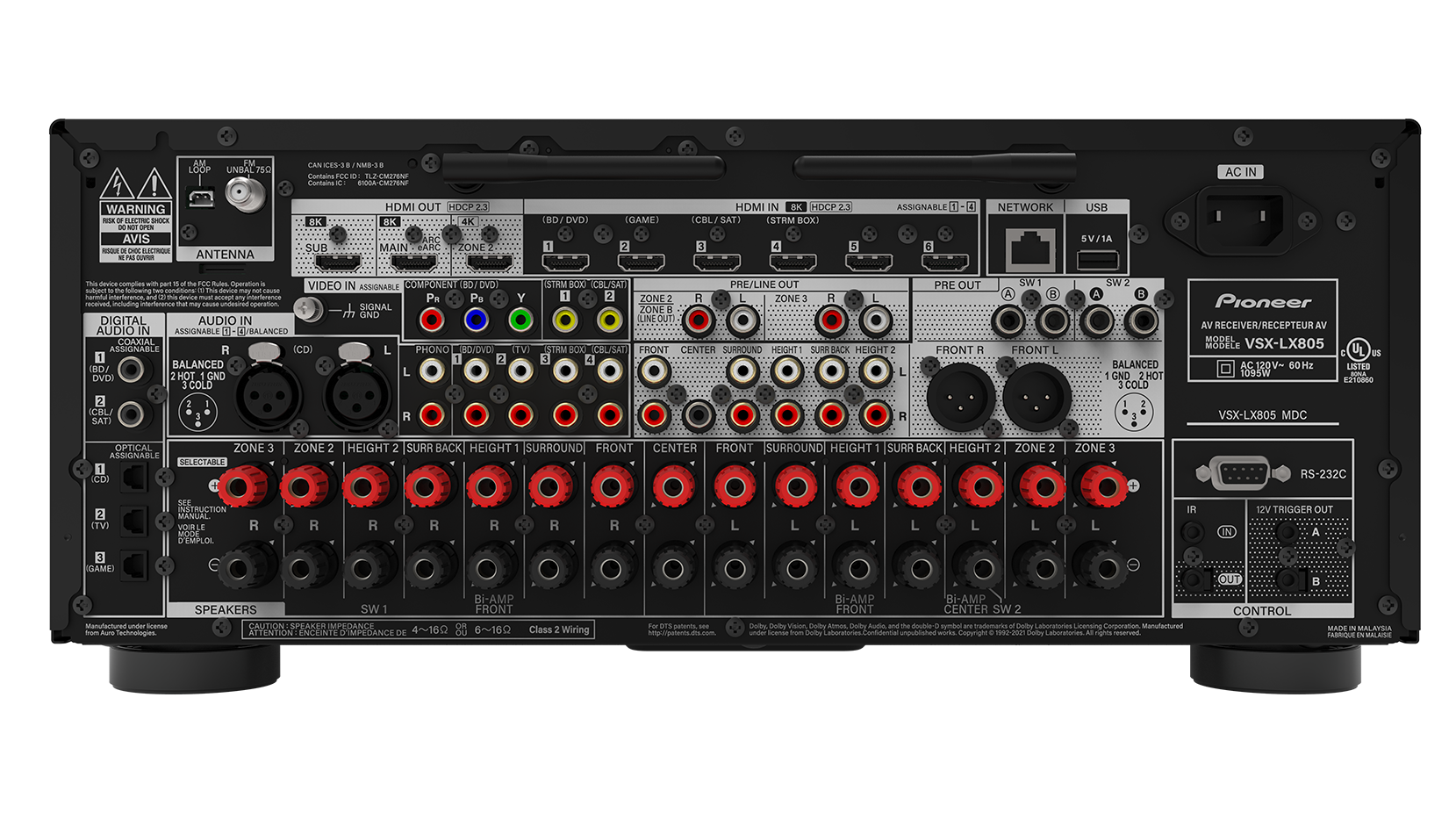 Analysis: Pioneer AV receivers are back, and they've returned in style 
Often when a major audio brand is acquired, the new version ends up being a pale shadow of its former self. There are countless examples of this to draw from over the decades, and some of us who cover the AV space had pretty much given up on Pioneer Elite, which had disappeared from view a few years back.
But with the new Elite VSX-LX805 AV receiver, the brand is back, and it's looking as strong as ever. Same as with the recent Sony AV receiver launch, Pioneer's flagship is outfitted with all the latest connection options, with support for 8K and 4K 120Hz on multiple HDMI ports. This makes the VSX-LX805 essentially future-proof, and anyone buying one now can rest easy knowing that the latest-gen HDMI version is supported and that any video signals they route through it will pass through without issue.
The VSX-LX805's streaming options are wide-ranging, even one-upping the new Sony AVR offerings on that front. And its hefty power specifications mean that it should be able to drive all manner of speakers without breaking a sweat. Spatial audio support is equally impressive, with Auro-3D supplementing the usual Dolby Atmos and DTS:X options.
But even with all those amenities, the features that really put the new Pioneer over the top are its built-in Dirac Live and the Dirac Live Bass Control option. Having used Dirac Live extensively in the past, I'm aware of the dramatic improvements it can bring to the sound of speakers situated in less-than-perfect rooms (which basically means most rooms). And the Dirac Live MacOS or PC application lets you also fine-tune the correction curves to taste, which takes it a step beyond the auto room EQ processing built into many other receivers.
The Pioneer Elite VSX-LX805 will be available this spring. 
[ad_2]

Source link