[ad_1]

As we continue to emerge from the COVID-19 pandemic, debit spending patterns are undergoing some interesting trends. Overall debit usage is up, and despite the return to in-store shopping, many digital habits seen during  pandemic-related lockdowns continue to be adopted in consumers' everyday lives.
Card-not-present (CNP) transactions continue to increase in volume, while debit is seen as central to issuers' digital transformation initiatives. They are investing in digital solutions that support debit payments as well as products and services in mobile, online, and related channels that enhance the user experience and create operational efficiencies.

This rise in debit usage is leading to a concurrent rise in attempted fraud as bad actors seek to take advantage of the massive increase in CNP payments. Fraud attacks have become more frequent, requiring issuers to nimbly adjust their mitigation tools and strategies to fend off new and increasing threats.
These trends and more were discussed in the newly released 2022 Debit Issuer Study, commissioned by the Discover-owned PULSE debit network and conducted by Mercator Advisory Group.
Debit Growth and the Rise of Digital
Debit use in 2021 for consumer and business transactions grew a combined 5 percent year over year. The average debit ticket increased from $45 in 2020 to $49 in 2021, resulting in a dollar value increase of 9%.
This growth was largely driven by consumer debit transactions, which account for 95 percent of transactions and 88 percent of dollar volumes.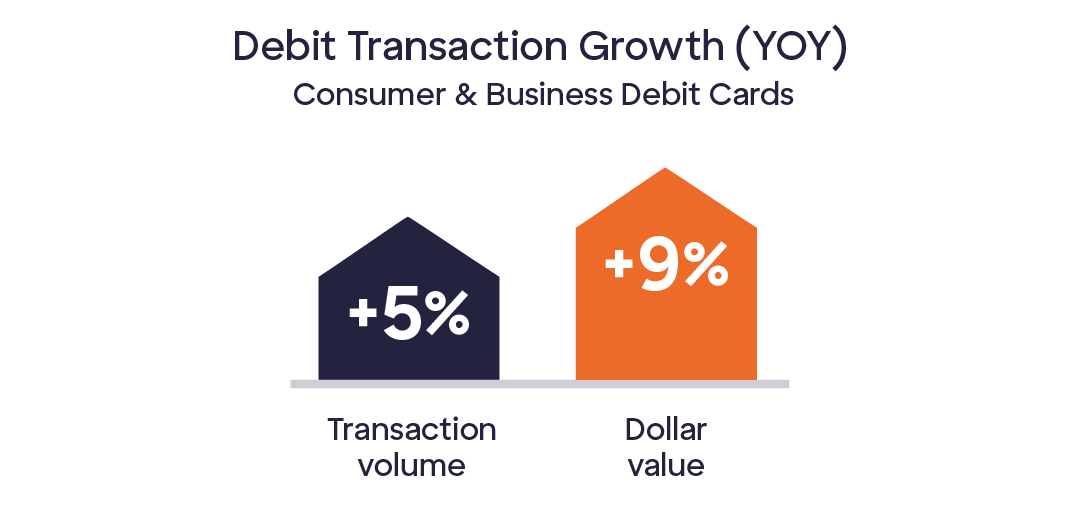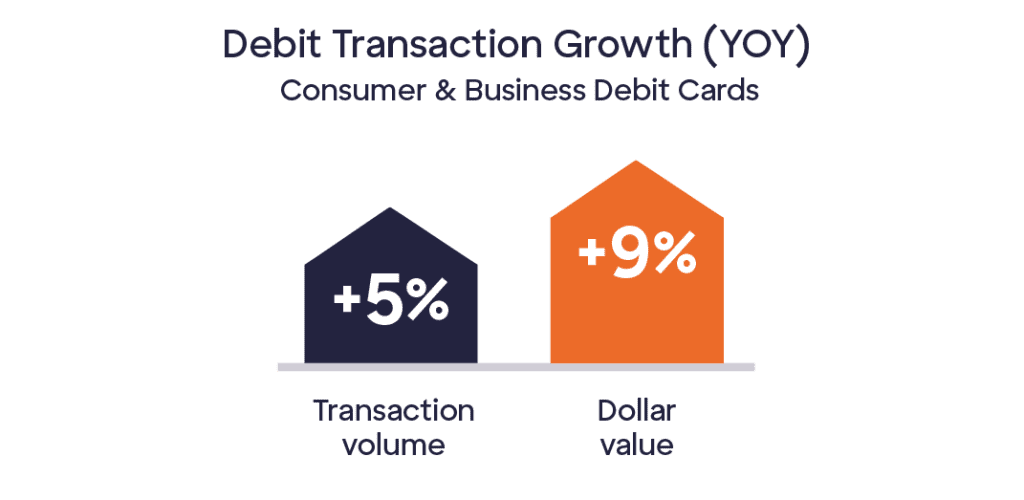 As noted above, digital and CNP debit transactions have also increased.
"Issuers have been closely watching to see which digital payment types consumers adopted over prior years will remain as ingrained habits," the report stated. "CNP use is one such behavior. CNP transactions constituted 33% of debit transactions in 2021 versus 31% the prior year."
However, it should be noted that the CNP dollar volume declined from 2020, when people were purchasing virtually everything online amid the most stringent pandemic lockdowns and restrictions. Consumers have gone back to buying some items, especially luxury items and big-ticket items, in stores.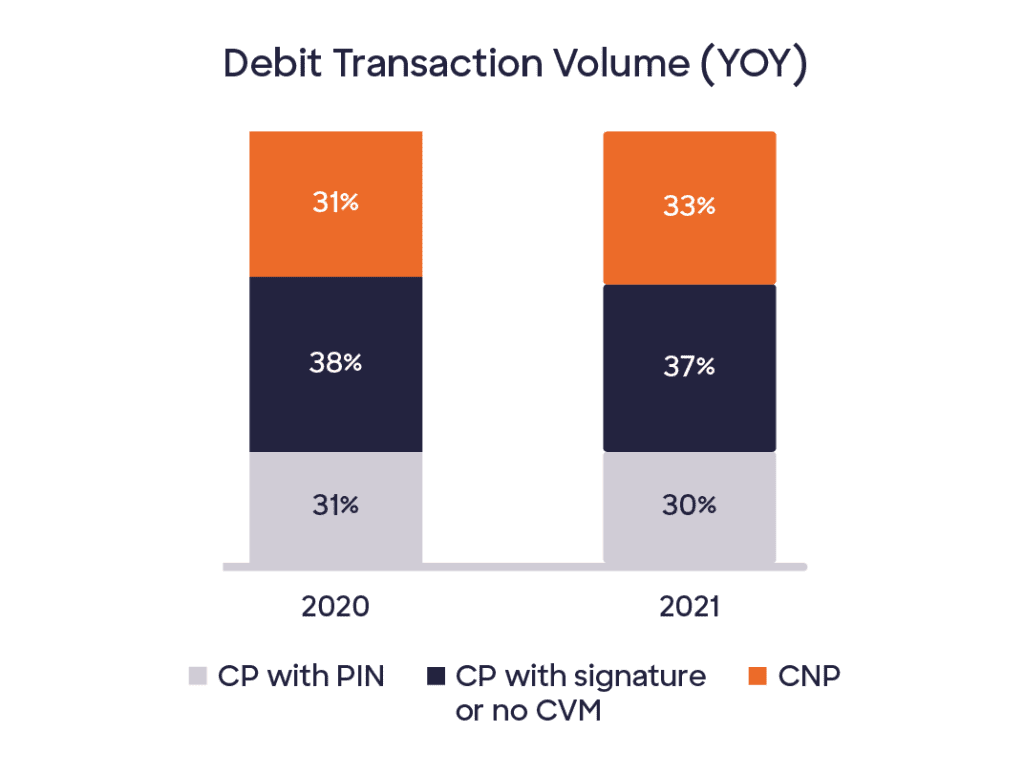 Debit is increasingly used as the primary payment type in  mobile wallets such as Apple Pay, Google Pay, Samsung Pay, and Click to Pay. Consumers are now more likely to have debit credentials loaded into their digital wallet than any other payment type, which further shows how important digital payments are in the debit ecosystem.
Fifty-four percent of mobile wallet transactions are CNP purchases, the report found, while 46 percent are contactless in-store purchases.
It should also be noted that account-to-account (A2A) transfers using debit —such as consumers receiving a payment from a business or the government or making a peer-to-peer (P2P) payment—are the fastest growing type of debit transactions.
Issuers that track A2A transfer payments found that outgoing account-funding transactions were as frequent as incoming deposits among users.
"These transaction types deserve the attention of issuers as they reveal information about consumers' financial activity beyond the account with the debit issuer," the report advised.
Issuers Investing in Digital Solutions
These trends leave no doubt that issuers are increasingly investing in digital capabilities to remain relevant and competitive. They are doing this to compete not only with one another but also with the emerging fintech companies.
"More consumers are seeking solutions that match user experiences found outside the banking market," the report noted. "They are looking for fast response times and a simple, intuitive interface that delivers relevant information at low or no cost to the user."
Issuers that responded to the study identified a variety of digital initiatives they are planning. Primary among these are increasing  self-service options, such as enabling cardholders to manage activity as much as possible through a mobile app or  online channel.
Issuers are also focusing on using push notifications to inform customers of suspicious transactions and enable them to  freeze  a card through the mobile channel. About half of those polled reported that they allow a cardholder to dispute transactions digitally.
The Battle Against Fraud
Unfortunately, expanded debit use has been accompanied by an increase in attempted fraud. The most common factor leading to debit fraud is large-scale data breaches, but fraudsters are also focusing on the increasingly popular P2P payments channel. The chart below shows the top avenues to fraud in debit transactions.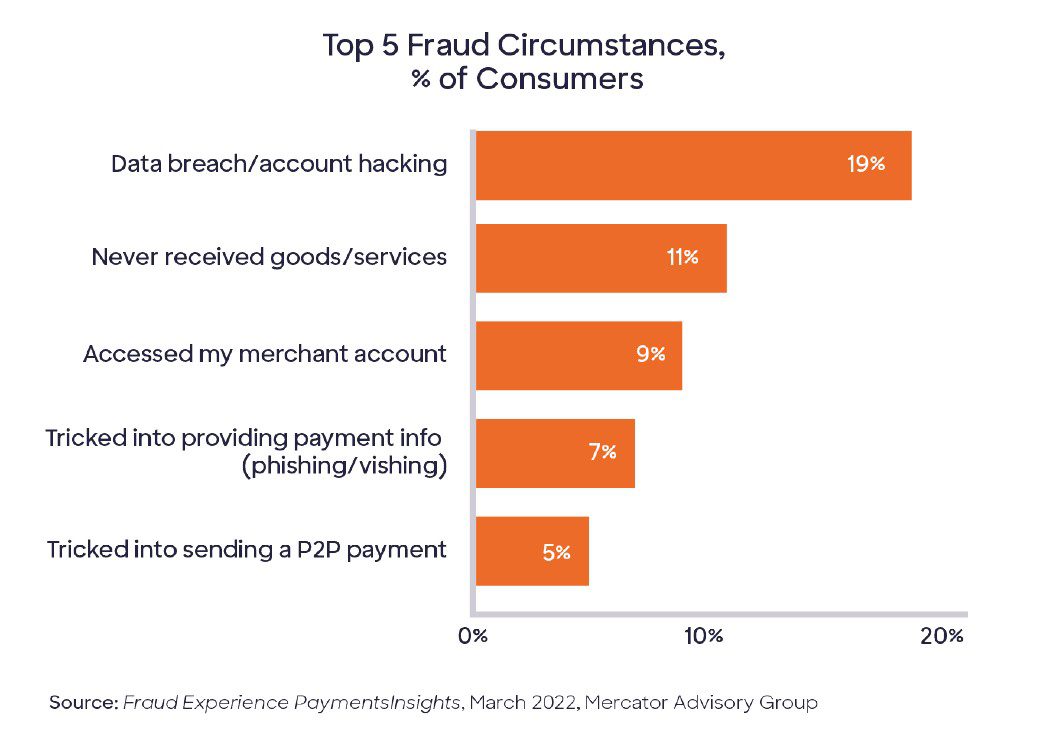 Most fraudulent transactions take place in the CNP realm, the report stated.  Although CNP represents one-third of debit transactions, in 2021 it accounted for 84% of issuers' net fraud dollar losses. CNP transactions with a PIN are the ones least prone to fraud, with 6% of the total net fraud value.
Despite the increase in attempted fraud, issuers on average are faring well to keep their own and their cardholders' losses from increasing, the report said.
The Future is Bright for Debit
Debit continues to be a highly used payments method. Sixty-nine percent of consumer debit cards were used for a purchase at least once every 30 days, compared with 55 percent of business debit cards in 2021.
"The role that debit plays in financial services continues to expand through all channels, signaling continued growth," the report stated, noting that issuers are paying attention to some potential headwinds, including new regulatory activity, the current economic climate and the potential for a recession.
Competition from non-traditional sources is also top of mind for many issuers. Those interviewed for the report said they are keeping a close eye on the development of new payments, including cryptocurrencies and real-time payment systems, as they are concerned that these new channels may develop beyond    account-transfer solutions and become payment options online and in-store.
"While such developments are potential long-term threats to debit's market share, debit's convenience, transaction protections and ubiquity are expected to fortify its prominence for many years to come," the report concluded.  
---
[ad_2]

Source link