[ad_1]

Not all the gadgetry announced at the Consumer Electronics Show this year solves only business problems. Some of the new tech helps people have fun, keep track of stuff, or improve personal spaces.
Here is a summary of three new items that check those boxes. We found this emerging tech intriguing, and you might wonder why somebody did not think of these sooner.
Verge Motorcycles Launches High-Performance Model
A highly anticipated new electric motorcycle line from Verge Motorcycles is now available for preliminary reservations in the U.S. The company announced it will start sales in select states during 2023.
By making a preliminary reservation, fans can indicate their interest in being contacted when sales of the long-awaited electric motorcycles begin in the United States. Verge announced the start of series production of their other models, the Verge TS and Verge TS Pro, for select European markets in November. Here's their brand clip "Introducing Verge TS Pro – The Electric Superbike."
The new Verge TS Ultra model (pictured above) is one of the most advanced electric motorcycles. Verge is known for its unique design and innovative integration of the rim motor inside the rear wheel. This pioneering technology enables a larger battery, a more extended range, and stunning performance. In addition, the center of gravity is lower, providing a better riding experience than traditional electric motorcycles.
"We see a lot of potential in the market, and the wait [by] bike enthusiasts will soon be rewarded with even more powerful and futuristic electric motorcycles," said Tuomo Lehtimäki, CEO of Verge Motorcycles.
Verge TS Ultra is a high-performance model designed from the ground up with an electric drive in mind. The Verge TS and Verge TS Pro models already represent innovation. The performance of the new Ultra model is exceptional, with its range of up to 233 miles and fast charging time of 25 minutes. With its 201 horsepower output, the bike accelerates from zero to 60 mph in just 2.5 seconds.
Commercial Smart Label Tracking Device
Pod Group, a Giesecke+Devrient (G+D) company and the world's first Enterprise Network Operator (ENO), in partnership with Sodaq and Lufthansa Industry Solutions (LHIND), on Tuesday, announced the launch of a paper-thin tracking device in the form of a Smart Label.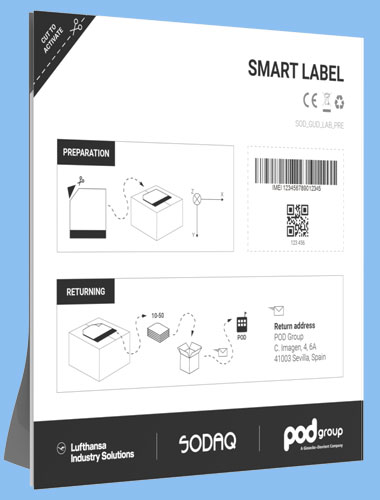 The device could revolutionize the logistics industry by allowing the tracking of small and lightweight items. According to the company, this ability has not previously been possible using traditional tracking devices.
"Smart mobile devices will play an increasing role in the digital transformation across all industries. Because of its form factor and unique technology, the Smart Label enables a series of new use cases," said Ingo Pietruska, vice president of business development at LHIND.
The Smart Label uses low-power cellular connectivity (LTE CAT-M) to send data regarding device location and temperature back to a centralized dashboard, enabling logistics companies to track valuable goods.
The package could be as small and light as an envelope containing important documents or as large as a full-sized oil painting. The LEAP platform provided by LHIND enables geofences with notifications that can be set to alert the user when the package enters or leaves strategic points along the supply chain.
The printed battery keeps the label as light as possible, while the use of low-power connectivity ensures that battery life is optimized and can last up to six months. The label could be used multiple times, depending on the frequency of the transmission. The alkaline battery is also more environmentally friendly than traditional lithium batteries, and the materials used are recyclable.
"With the Smart Label, companies with complex supply chains can track their goods efficiently, reducing spoilage and theft. The state-of-the-art low-power cellular communication technology can now reliably send near real-time positions, temperature, and shock alerts from a recyclable ultra-thin device," said Ollie Smeenk, co-CEO of IoT hardware company Sodaq.
Personalized Air Reforming Solutions Powered by AI
Airosphera, a new company powered by Airovation Technologies, displayed a groundbreaking product and concept at CES 2023 — personalized air reforming.
The AI-driven air reforming solution personalizes a variety of environments for well-being and performance at home, work, and other indoor spaces. Airosphera is collaborating with leading brands in home appliances, air purification, and other relevant markets to embed its technology and AI capabilities into its products in various ways and for several usage scenarios.
The technology utilizes artificial intelligence, unique remote sensing ability, and cloud processing to produce an all-in-one solution designed to create the optimal personal indoor environment customized for each user. Machine learning technology enables bio-sensing to continuously monitor actions such as heart rate, breathing rate, and daily routine — all remotely.
Along with manually inserted data, this creates personalized baseline parameters for the optimal breathing environment.
These air-reforming products will stand out in the market by activating air treatment, monitoring the user's important vital parameters, and with an accompanying app, instructing users on how to improve their environment, according to Airovation Technologies Founder and CEO Marat Maayan.
The air reformers also deal with CO2 levels and treat particulate and microbiological pollutants within indoor spaces, thereby improving people's productivity and well-being.
Airosphera Trio of Air-Reforming Products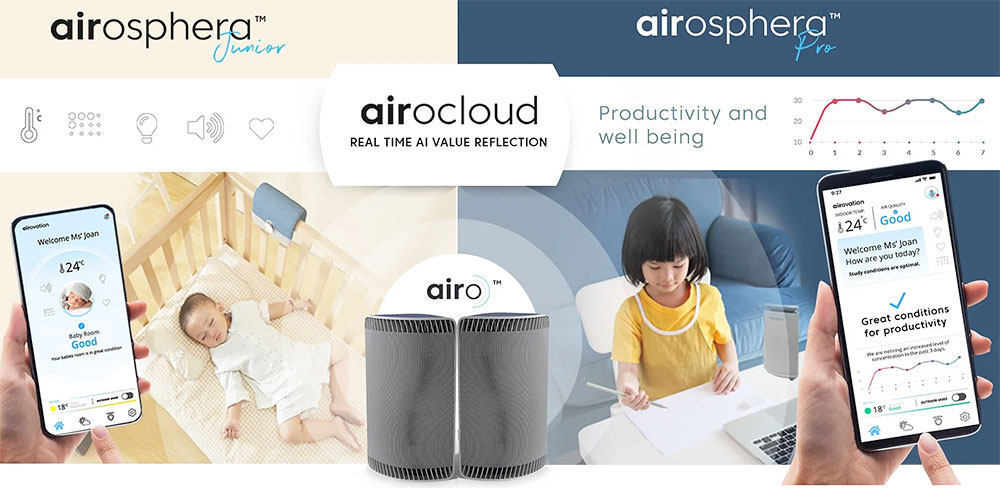 Airosphera Pro improves the air around users such as students and workplace professionals and helps them become aware of their vitals and surroundings to help improve focus, productivity, and learning skills.
Airo is an air treatment device that reforms air quality for users' vitality, well-being, and improved performance. It clears the air of contaminants and captures CO2.
Airosphera Junior is an all-in-one air control solution for babies, equipped with multi-sensors that measure and reflect the environment and the baby's conditions and treat the air to improve the infant's well-being.
[ad_2]

Source link